Benefits of real estate in Dubai. How to move to the UAE and start investing? Visa UAE for 7,435 dollars!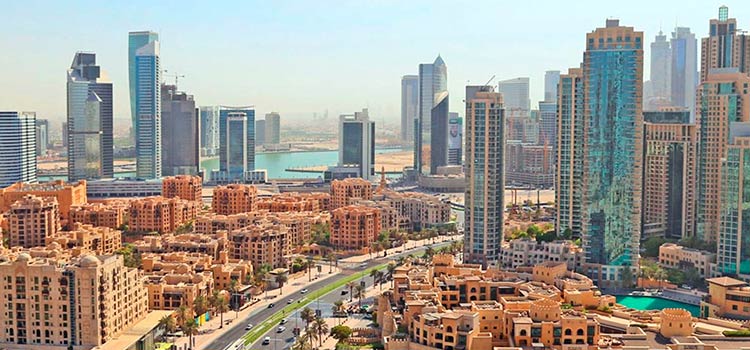 This article aims to study the investing profitability in Dubai's real estate. Here we provide the review of means to obtain a resident visa UAE, and a more detailed consideration of obtaining visa for 7,435 dollars through registration of a company. We will also tell you how to obtain visas for the entire family.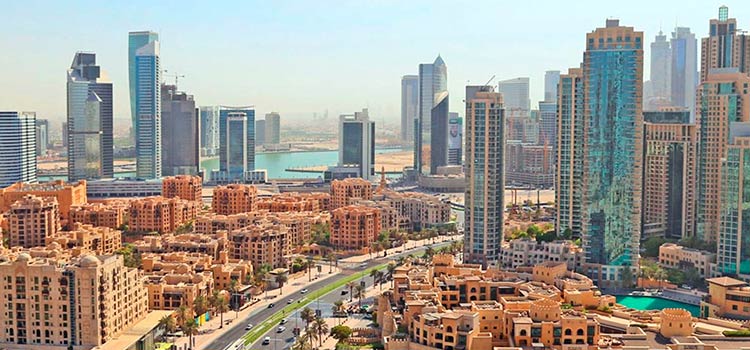 Dubai: "The City of Future" you may get to know personally when immigrating to the United Arab Emirates
Dubai is one of the most contemporary megapolises. Everything in this city was created by people and for people. The highest skyscraper, the biggest fountain, the longest automatic metropolitan system – this all and many else can be found here. Moreover:
Dubai has an advantageous geographic location.
The center of business activity.
The UAE are the Muslim country living its life and traditions; nevertheless, Dubai is very loyal to non-residents.
The UAE provides a high level of personal safety and social stability.
Visa regime in the UAE
To obtain a resident visa UAE, subject to the Federal Law of the UAE, it is necessary:
To go to college in the UAE.
To be hired for a job in the UAE.
To obtain a family visa through a relative (close relatives only) having a status of UAE resident.
To register a company in the UAE.
To purchase real estate at price not less than one million dirham (approx. 273 thousand dollars).
For most investors, the option of buying a real estate abroad in any resort states is very attractive. Many people made their choice in favor of Dubai; let us find out what made them do this.
What should one know about the legislation when buying a real estate in Dubai?
Of all seven emirates within the UAE, Dubai has the most transparent and developed legislative framework in the sector of real estate. Subject to the legislation of Dubai, non-residents who are not members of CCASG (Cooperation Council for the Arab States of the Gulf) may purchase a real estate in Dubai in full ownership (freehold – "free ownership") in special freehold regions. The list of such regions is defined by the Decree of Ruler of Dubai number 3 d.d. 2006. For example, these regions are included:
Palm An artificially erected island in the form of a palm, combining sixteen leaves and a half-moon surrounding a peninsula. The region is located near free trade zones: "Dubai Internet City", "Dubai Media City" and "Jebel Ali". The distance to the "Palm Jumeirah" is approximately 25 kilometers – a ride of 20 minutes.
Downtown Dubai.This marvelous place comprises all the basic sights of Dubai: fountain of Dubai, "Dubai Mall", "Burj Khalifa". The complex is still under development. It is located along the highway of Sheikh Zayed.
Dubai Marina.A very perspective district that is being developed in the west of Dubai around a man-made bay. "Dubai Marina" borders on the island "Palm Jumeirah" and the free zone "Dubai Knowledge Village". It is expected that the biggest man-made harbor in the world will be in this district.
Emirates Living.The district is located in the very center of Dubai and has an easy exit to all key regions. The concept "Emirates Living" reflect such values as a combination of cozy country style, abundance of greenery and water, isolation from urban hype and at the same time easy access to it.
Jumeirah Lakes Towers.Located near "Dubai Marina" and "Jumeirah Islands". "Jumeirah Lakes Towers" are located around the lake that is surrounded by a pedestrian zone, plenty of entertainment zones, restaurants and shops.
Rights for immovable property must be registered in the Register of Dubai's Land Department, where owners of real estate obtain the "Title Deed" (certificate of registration) that certifies the right of ownership for a purchased object. Title Deed is issued to a buyer immediately upon registration of a deal with property (upon request of seller and buyer). The so called "instant registration" greatly simplifies the process of purchase and sale, as well as minimizes risks that may arise as on the part of seller, so as on the part of buyer.
RERA is a special Real Estate Regulatory Agency of Dubai, which controls the fulfillment of legislation. Besides, RERA controls the registration of real estate projects, developers, agents and agencies of real estate. Its purpose is to protect rights and interests of sellers and buyers, and bringing to a minimum the potential malicious actions on the part of agents. To check the registration of a real estate agency in Dubai and its agents, you need to visit the official site RERA.
Taxation in the Arab Emirates
What should you know about taxes in the UAE?
There are no taxes on income and property in the UAE.
Vat rate is 5%.
Owing property in the UAE, as well as obtaining profit from leasing, is not subject to taxation within the jurisdiction of the UAE. This indicates that the taxation system of the UAE is maximum attractive for people.
The UAE are listed among top-10 countries with the best economy. This country has maximum simple requirements on making business, which helps the state to attract direct foreign investments.
What should you know about prices for real estate in Dubai?
Prices per square meter in apartments located in a prestigious district, which are completely ready, start from two thousand dollars. An apartment in "Palm Jumeirah" (famous artificial island) can be bought for 2500 dollars per square meter. Moreover, all residential property is turn-key when delivered for exploitation. Such an apartment is equipped with everything necessary: kitchen furniture, bathroom fitments, and household appliances. Parking places are provided for residents of all apartments. Most of the projects also include: sport gyms, pools, 24/7 security, playgrounds, etc.
What should you know about leasing profit when buying property in the UAE?
Dubai is the city of visitors. Here more than 90% of population is expatriates, who need to live, work and rest somewhere. Not everyone living here may afford buying himself a residential place, therefore, the leasing market in Dubai is developed quite well. This fact makes real estate in Dubai a very promising investment, as property leasing can bring a very high current income (much higher than a similar property in Europe, Russia and other countries).
The index of net rental income for property in the emirate of Dubai (income minus expenses for maintenance) is 5-10% yearly. Such dispersion in profitability is explained by differences of categories and type of property, cost of maintenance and location. It should be noted that usually large-scale apartments bring higher results as rental income than more expensive property.
From the point of rental income, investments in purchase of property are more reasonable than investments in the market of office property. But in theory, leasing of trade areas can bring a higher income (up to 15%) — this depends on parameters of real estate and external factors influencing the object.
Rent in the UAE is usually paid for a year ahead. As a rule, such calculations depending on agreement are paid by one or more bank checks. In case of multiple checks, they are dated with future dates. For example, in case of twelve checks, dates of checks will correspond to dates in future with interval one month; if four checks, then to dates in future with interval one quarter; if two checks, then to dates in future with interval six months. Upon coming of the date stated in the check, a leaseholder may address a bank and provide a bank check to receive assets from a tenant's account. In the UAE issuance of unbacked checks is a criminal offence; therefore, payment of rent with bank checks brings risks for leaseholder to a minimum, although it does not give a 100% guarantee.
What expenses leaseholders may bear when maintaining property in the UAE?
Owners of real estate in Dubai are responsible for proper maintenance of it. They must pay all expenses for its maintenance, which are defined by the Association of property owners or a management company.
The payment for maintenance of real estate usually includes:
expenses on cleaning of public utility places;
expenses on security in the building;
expenses on maintaining the infrastructure (pools, parking lots, entertainment zones, fitness gyms, etc.).
In Dubai such payments usually make 20 to 80 dollars per square meter yearly (depending on a project) и and are collected every year. When leasing a property, maintenance costs are covered by rental income. If property is not for lease, its maintenance costs should still be accounted, no matter if someone lives there or not.
What should you know about crediting in the UAE?
Because of the global financial crisis, banks of the Arab Emirates had to reconsider rules of crediting and criteria of credit issuance for purchase of real estate. Despite that today the number of the provided mortgages is increasing, a foreign citizen without the status of UAE resident will not obtain such credit. Mortgage credits are mainly provided to:
those working in the state sector;
employees of big companies who are not enrolled in "black lists".
To obtain financing, it is usually necessary to pay minimum thirty percent of the price of real estate. Meanwhile, an average monthly income of a borrower shall be at least five thousand dirham (approx. 1360 dollars).
Let's summarize!
What does an investor obtain when buying an apartment in Dubai?
Property in the world's biggest megapolis.
Property you may reach easily and fast.
Property in the biggest business center of the Middle East region.
Property in the tax-free jurisdiction with transparent legislation.
Property that will bring rental income.
If you want to obtain a resident visa UAE and move to Dubai, just as 90% of non-residents who live here, but cannot currently invest to purchase of estate in the UAE, we recommend you to obtain a resident visa through opening a company.
Obtaining UAE visa for an investor
Free trade zone (FTZ) or free economic zone, or simply free zone is a certain region in the emirates that is a separate jurisdiction. Within each free zone a company can be established. Each free zone in the UAE has its own rules governing the operation of companies.
The Arab Emirates have already established more than 40 different trade zones.
Obtaining in investor resident visa of the UAE is made through opening a company in the UAE. An investor visa of the Arab Emirates is issued for 3 years with an option of prolongation for next three years any number of times. With the purpose of UAE visa obtaining, a company can be opened in a free zone or outside.
An offshore company opened in the UAE does not allow its founders to obtain resident visas of the emirates.
To update the validity of an investor visa UAE, it is necessary to arrive to the emirates at least once in every 180 days; besides, annual fees should be paid for renewal of an opened company through which UE visas were executed. A possibility of prolongation of UAE visa does not anyhow depend on absence or presence of an actively operating business.
To obtain a resident visa UAE, the most reasonable way is to choose a company of a free trade zone. Each free zone defines its regulations and prices for establishing of companies. By choosing the most appropriate FTZ by price and terms, you may register a company there and issue a resident visa UAE afterwards.
The procedure for collection and submission of necessary documents for obtaining UAE visa is quite complicated. Please contact us right now at [email protected] to be consulted and obtain full assistance in preparation of the required documents.
Main peculiarities of UAE investor visa
How can be investor visa UAE obtained?
Establishing company in free zone
Establishing company outside territories of any free zones UAE
Do I have to make any investments to execute UAE investor visa?
Investments are not necessary
Validity term of UAE investor visa
3 years
Terms for prolongation of UAE investor visa?
UAE investor visa is issued for 3 года, with an option of prolongation for next 3 years any number of times. You will have to arrive to the UAE every 180 days. It is necessary to pay annual fees for renewal of an established company through which UAE visa was issued.
UAE visa for an investor!
Establishing a company FTZ with the purpose of obtaining UAE visas for investors
If you are not an owner of a company in the UAE, then our services on execution of UAE visas also include the service for opening a company in emirates. Depending on how many UAE investor visas is needed, we recommend different variants of companies in different FTZ in emirates. The price for establishment of such company depends on the number of visas you need.
Registration of a company with the purpose of obtaining a single UAE investor visa
To execute a single UAE visa for an investor, we offer to establish a company in the emirate Umm Al Quwain in FTZ "Umm Al Quwain Free Trade Zone. The owner of such resident visa UAE also may execute visas of dependants for his relatives.
Fee of FTZ for opening a company with the possibility of obtaining one resident visa UAE is 3,700 dollars (13,579 dirham).
Renewal of a company requires an annual fee of 3,150 dollars (11,561 dirham).
After opening a company, you need to connect to the "e-channel" – this is the mandatory requirement of the immigration service of the UAE. The price of such connection is — 660 dollars (2,423 dirham).
After that, you need to pass a medical examination at price 235 dollars (863 dirham).
Then, you need to obtain the "Emirates ID" at price 101 dollar (371 dirham).
Payment for visa of the Arab Emirates – 685 dollars (2,514 dirham).
Price of prompt sticking of UAE visa 55 dollars (202 dirham).
Price of our services on registration of a company in "UAQ FTZ" and execution of a resident visa UAE is 2,000 dollars (7,340 dirham).
If you also need to open a personal bank account in the UAE, then the price of our assistance in registration of a company in FTZ "UAQ FTZ", execution of an investor visa UAE and opening a personal account in the bank of UAE will be 2,200 USD (8,074 dirham).
In total, together with the price of our services and registration of a company, the price of obtaining one investor visa UAE will be 7,435 dollars (27,287 dirham).
Registration of company in the United Arab Emirates in FTZ — another service offered by us!
Is it possible to open a company in the free zone "UAQ FTZ" without arrival of a founder to the UAE?
A company can be opened without arrival of a founder, if an upcoming owner of a company had already visited the emirates and can provide a scanned page of passport with a mark of entry. In such a case, a founder will only have to arrive to the Arab Emirates for sticking a visa UAE, which greatly saves time. If there are no UAE entry marks in a passport, a personal arrival to the emirates is necessary.
Resident visa UAE for dependants
By obtaining a resident visa UAE, it is possible to obtain a resident visa UAE for the so called "dependant persons" (children, parents, spouse). A visa for family members can be only executed for close relatives; a certain set of corresponding documents must be provided for its issuance.
To execute such UAE visa for family members, you need to provide documents verifying blood relations. Moreover, you need to provide documents verifying the available assets for living of relatives in the territory of the emirates. Also, it is necessary to provide documents verifying the available apartment for living of relatives (certificate of ownership right for an apartment or a rental agreement). All these documents must be legalized.
To let a husband obtain a resident visa UAE for his children and wife, his income must be not less than 4 thousand dirham (1,090 dollars) (this condition depends on citizenship of a husband and is constantly changing).
Nevertheless, to let a wife obtain resident visas UAE for a husband and children, her income must be not less than 10,000 dirham (2,725 USD). Meanwhile, if a wife works in a company and a company provided her an apartment in the UAE, then her income must be not less than 7 thousand dirham (1,908 USD). These requirements to income of a wife are just approximate; they are constantly changing and depend on citizenship of a wife and each certain case.
If children are of different gender, then an apartment must have a separate room.
In case where UAE visas are necessary for parents, then an income of a sponsor must be not less than 20 thousand dirham (5,450 USD).
It should be mentioned that in many FTZ, when issuing a certificate of income for a company founder, a predefined income 20,000 dirham (5,450 USD).
If you have any questions regarding this issue, please contact us for advice at: [email protected] .
Tags
#Real estate in Dubai
#UAE visa
You are welcome to review other interesting articles on uaewealth.info: