Renting a real estate in Dubai. Answers to questions regarding rent of real estate in Dubai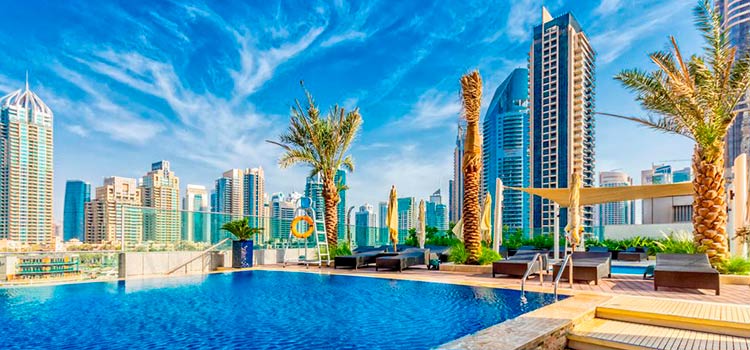 In this article we examine the key issues regarding rent of real estate in Dubai and provide detailed information within this context.
A profit from real estate leasing in Dubai is 2-3 times higher than in most developed countries; this makes the Arab Emirates very attractive place for investors.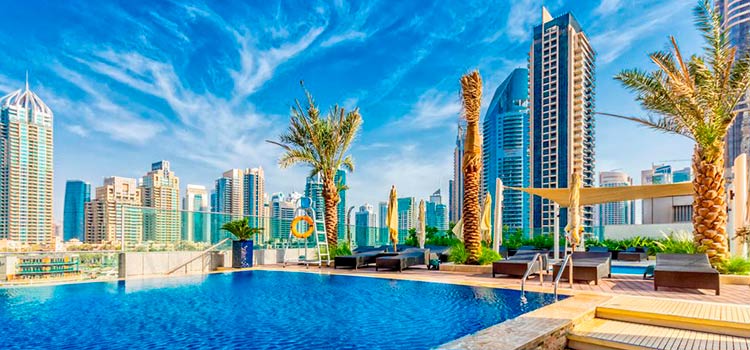 May non-residents become owners of real estate in Dubai?
Under the law, non-residents have right to purchase, as well as to perform other transactions, real estate exclusively in specially defined districts. The detailed list of this territory is defined by the Decree of the Ruler of Dubai from 2006. The list includes almost all districts of the "New Dubai". Here are some of them:
"Dubai Marina".The most prestigious district of Dubai. Here you may find cafes and restaurants, shops and boutiques, and free beaches. Inner yards of the district are well-equipped and include bicycle lanes, alleys and private children centers. This all is necessary for various purposes and is located within a pedestrian's walk. This is the top-elite district of Dubai where real estate facing the Bay can be purchased.
"The Palm Jumeirah".Located in 30-minute ride from the international airport of Dubai. The district includes artificial islands in the form of a crown, which comprises seventeen branches with seventeen peaceful areas with villas, as well as the trunk and the half-moon. Elite villas that are built here are highly popular among investors, and are certainly unequaled in the world.
"Emirates Living".Classic cozy suburban district with low-rise builts and quick access to urban pleasures. There is plenty of greenery and water in the district.
"Jumeirah Lakes Towers".The district is famous for its lakes, groomed gardens, and the island of entertainment and attractions. Waterfalls, flowerbeds, surface of lakes – this all creates a warming atmosphere for relaxation. The district is located opposite to the coastal district "Dubai Marina" and is very popular among residents. Here there are many skyscrapers; nevertheless, in "Jumeirah Lakes Towers" you may easily orientate due to a well-thought system of indicators. The district comprises a great number of parks, playgrounds, shops, and cafes.
Do I have to register the real estate purchased in Dubai?
Registration of documents is made by the specialized department of the Government of Dubai. Ready objects, just as objects under development, are subject to registration. When registering a ready property, an owner obtains the "Title Deed", when registering a property locates in a house under development – the "Initial Contract".
Should an owner of any real estate in Dubai pay taxes?
In the Arab Emirates property and profit from lease are not subject to taxation. An owner of a real estate bears responsibility for maintenance of an object. Amounts of payments are defined by a managing company. Usually, maintenance of a real estate includes:
collection and utilization of litter;
cleaning of public-use premises;
support of objects of infrastructure of residential complex (parks, playgrounds, pools, fitness gyms).
May an owner of real estate in Dubai rent it out?
Subject to the Law number 26 dated 2007, owners of residential premises may rent them out independently or through specialized agencies, which have a corresponding license for a period not less than 1 year.
What is the potential profit for an owner from leasing property in Dubai?
The amount of profit, minus all expenses for maintenance of residential premises, makes around 5 — 10 yearly interest rate. As a rule, profit depends on the type and category of property. Practice shows that a residential premise of mass demand allows obtaining bigger profit from lease than more expensive real estate.
Are there any limitations on rental prices in Dubai?
There are no limitations on rental price which is stated in a rental agreement. Moreover, under the law an owner of a residential property may not increase a rental price until two years have passed since the moment of conclusion of an agreement (initial). If necessary to increase a rental price, an owner must follow the index "RERA".
What are the requirements to people planning to rent a property in Dubai?
A real estate in Dubai can be rented by:
Foreign citizen who has the status of UAE resident.
Citizen of a country among members of GCC;
Legal entity that has a proper registration in the territory of the UAE.
Citizen of the UAE.
How to obtain UAE resident visa?
There are multiple ways to obtain a UAE resident visa:
to be hired in the emirates;
to get higher education in the emirates;
to purchase real estate in the emirates, which price starts from one million dirham (270 thousand dollars);
to obtain a visa through a close relative who is a UAE resident;
or to open a company in the emirates.
How to obtain an investor visa through opening a company in the UAE?
UAE resident visa can be obtained after establishing a company in the emirates. UAE investor visa for an investor is issued for 3 years, with an option of prolongation for next three years any number of times. With the purpose of UAE visa obtaining, a company can be opened in a free zone or outside.
Free trade zone (FTZ) or free economic zone, or simply free zone is a certain region in the emirates that is a separate jurisdiction. Within each free zone a company can be established. Each free zone in the UAE has its own rules governing the operation of companies. The Arab Emirates have already established more than 40 different trade zones with various specializations.
To execute a visa UAE, it will be more reasonable to establish a company in FTZ. Each particular FTZ has its rules and prices for opening companies. By choosing the most appropriate free zone by price and terms, you will be able to register your company there and obtain a visa UAE.
The procedure of preparation of the required documents for obtaining visa is quite complicated. Please contact our specialists at [email protected] promptly to obtain advise on this issue and full assistance in the procedure of collection and submission of the required documents.
How to open a company in the Arab Emirates for obtaining an investor visa?
If you are not an owner of a company in the Arab Emirates, then our services on obtaining UAE visas will include services on establishment of a company in the emirates. Depending on how many UAE investor visas you need, we will recommend different variants of companies in different free zones. The price for opening a company will depend on the number of UAE visas you need.
To execute a single UAE visa for an investor, we offer to establish a company in the emirate Umm Al Quwain in FTZ "Umm Al Quwain Free Trade Zone". A holder of this UAE visa may also execute additional visas for dependant persons.
Fee for opening such company, granting the right to obtain 1 visa UAE, is 13,579 dirham (3,700dollars).
Renewal of a company requires an annual fee of 11,561 dirham (3,150dollars).
After opening a company, you need to connect to the "e-channel" – this is the mandatory requirement of the immigration service of the UAE. The price of such connection is 660 dollars (2,423 dirham).
After that, you need to pass a medical examination at price 235 dollars (863 dirham).
Then, you need to obtain the "Emirates ID" at price 101 dollar (371 dirham).
Payment for visa of the Arab Emirates – 685 dollars (2,514 dirham).
Price of prompt sticking of UAE visa – 55 dollars (202 dirham).
Price of our services on registration of a company and execution of a resident visa UAE is 2 thousand dollars (7,340 dirham).
If you also need to open a personal bank account in the UAE, then the price of our assistance in registration of a company, execution of an investor visa UAE and opening a personal account in the bank of UAE will be 2,200 dollars (8,074 dirham).
Price of our assistance in opening a corporate bank account in the UAE – from 600 dollars (2,202 dirham).
In total, together with the price of our services and registration of a company, the price of obtaining one investor visa UAE will be 7,435 dollars (27,287 dirham).
What are the requirements for prolongation of a resident visa UAE?
Investor visa UAE is issued for 3 years with an option for prolongation for next three years any number of times. It is necessary to arrive in the UAE at least one in every 180 days. Annual fees should be paid for prolongation of an opened company through which UAE resident visa was executed.
More information on obtaining UAE visa.
How to properly execute a rental agreement in Dubai?
All rental agreements must be registered in the Agency "RERA". For convenience of citizens, the online system "Ejari" was developed, where a rental agreement can be registered independently by any party under a deal. Registration is free and requires entering the minimum set of data. In case where an agreement was not registered by the defined means, neither an owner of real estate nor a tenant may address a court for help in arising of controversial issues.
What is the process of leasing of a real estate?
After an owner of property (independently or using a real estate agency) had found a tenant, the parties must agree upon the terms of rent and sign an agreement. An agreement should include all the terms of rent of real estate: price, terms of payment, responsibility for breach of terms provided in a rental agreement, term and conditions for prolongation, as well as extra expenses and who will pay them.
When signing an agreement, a person who plans to rent a property should make a payment, usually for a year in advance and a warranty deposit. A leaseholder, in his turn, should transfer all the necessary for accessing a property and related objects of infrastructure, together with copies of certain documents, so that a tenant could connect the necessary utilities in his name.
How is rental paid for real estate in Dubai?
As it was described above, rental in the UAE is usually prepaid for one year ahead. Payment is made by bank checks (one or multiple, as it is provided in an agreement).If there are several checks, they should be dated with further dates at a similar interval (month, quarter, and half-year). A property owner, at coming of a date stated in a check, addresses a bank; a bank withdraws a sum stated in a check from an account of a tenant. By issuing a non-liquid checks, a tenant can be prosecuted under the law and get arrested.
May a property owner get money under a bank check if he is not a UAE resident?
A check that had not been provided for money receipt within six months is considered invalid.
If a check was issued for a natural person and it has no mark of mandatory transfer of money to a personal account, then a person stated in a check may receive money under it at any corresponding issuing bank.
If a check was issued for a legal entity, receiving money under it will only be possible on a bank account of a bank operating in the territory of the UAE.
May a non-resident UAE open an account in the bank of Dubai?
Even a person who is not a resident of the Arab Emirates (without UAE resident visa) may open personal accounts in the UAE. But because a customer is not a resident, a bank finds that it may not check such person completely. Therefore, it is problematic to open bank accounts for a non-resident.
From the point of UAE bank, those who have UAE visas and those who have not appear differently.
Whereas a person with UAE visa addresses for opening, e.g. salary bank account (i.e. such an applicant who had already obtained UAE resident visa, lives in the emirates and has work), then for a bank such a customer appears almost clear. Clear is also the origin of assets that will be coming to a bank account – a person is paid salary, which will be coming to an account. A bank fully understands why this person needs an account – a person is living in the UAE and therefore needs to have an account and payment cards, which is convenient to pay in the country of staying.
If a person is not a resident, i.e. does not live in the emirates, banks may not understand why he needs an account in the UAE. A person is not living in the UAE, and there are no logical prerequisites for opening an account. Banks may neither understand how an applicant obtained money. A person will for sure provide different statements, but usually applicants tell about dividends paid somewhat and somehow, as well as about sold businesses. Checking this information to any extent is quite difficult. As result, origin of assets in a person remains unclear. It means, an applicant addressed a bank with an unknown source of money and unclear reasons for opening an account. In this case a bank finds that chances are high that this person's aim is just to hide money from fiscal bodies of his mother country. Banks consider that there are more chances that such person will perform different obscure and illegal transactions than in an ordinary resident of the Arab Emirates. A bad transaction under accounts in a foreign currency leads to charging of penalty on a bank. Banks are aware of these risks and want to have compensation – a certain part of customer's money under their management. This is obviously not 2,000 dollars and even not 10,000.
Therefore, it becomes clear why banks of the Arab Emirates do not wish to open accounts for "small-scale" customers-non-residents, but if banks nevertheless open accounts for non-residents, they require maintaining a minimum average monthly balance. Therefore, when a bank had opened an account for a non-resident, it will be an account "Private Banking" that has a requirement on a minimum average monthly balance, starting from 100–140 thousand dollars; otherwise, a bank will not be interested.
Besides, a non-resident must prove that he has any relations with the United Arab Emirates, and has to explain why he needs an account here.
A reason for opening an account that will be acceptable for banks may be real estate in the UAE being owned by a non-resident, which he provides for lease. In such case, an applicant needs to accept money for rent, and in the UAE rent is usually paid with checks. It is therefore assumed that a person will use an account for deposition of these bank checks.
Another reason for opening an account that is accepted by banks may be preparation for any upcoming deal in the UAE.
This all must be certified by documents.
As result, opening a personal account in the UAE is always more complicated for a non-resident.
Who must pay for maintenance and keeping of real estate in Dubai?
Certainly, an owner is responsible for timely payment for maintenance of residential premise. Meanwhile, the parties may agree upon any terms.
Payment of utilities is made by a tenant. Moreover, a tenant must pay a "housing fee" in amount of 5% of the yearly cost of premises.
If you still have any questions, please contact our specialists at: [email protected] ; we will provide consultation on opening an account in the bank UAE, registering a company and obtaining a visa.
Tags
#Real estate in Dubai
You are welcome to review other interesting articles on uaewealth.info: