Immigration to the United Arab Emirates. Why is the emirate Umm Al Quwain so attractive for living and opening a company in the UAE?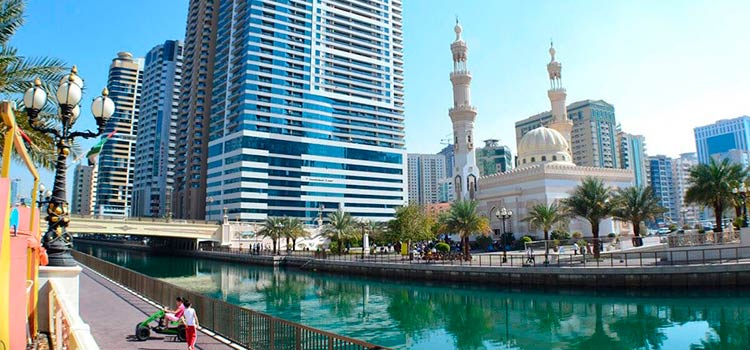 With this article, we will tell about a wonderful emirate in the UAE – "Umm al Quwain" (briefly – "UAQ") and will explain why immigration to the UAE and establishing a company in FTZ "UAQ Free Trade Zone".
The name of the emirate is translated into Russian as the "mother of two elements" – water and earth.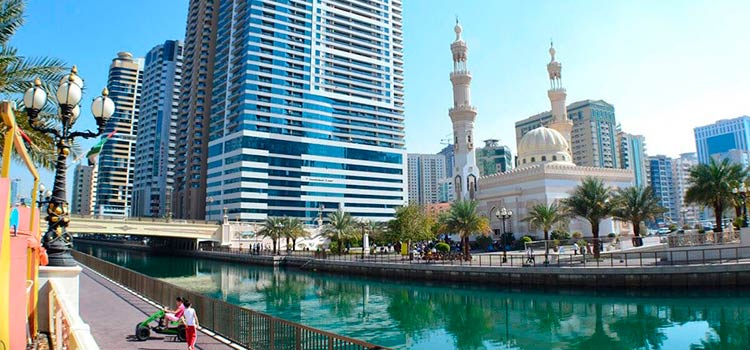 General information on the emirate "UAQ" which those who plan moving to the UAE and opening a company should know
On 2 December 1971, by the initiative of the Sheikh Zayed Umm Al Quwain together with Dubai, Abu Dhabi, Fujairah, Sharjah, and Ajman had formed the United Arab Emirates. Later these were joined by Ras Al Khaimah.
Umm Al Quwain is the emirate with the smallest population (approx. 78 thousand people as of 2018). On the South-West, the emirate borders on the emirate Sharjah, on the North-East with the emirate Ras Al Khaimah.
Currently the main sector of economy of the Umm Al Quwain is fishing industry, because the region is rich with plenty of sea resources. Crabs, shrimps, breams, rudder fishes, giant mackerels, flounder, and sea bass are caught here. The emirate exports fish and delivers to all the emirates of the UAE.
The second important sector in Umm Al Quwain is agriculture. The first poultry farm in the Arab Emirates was established particularly in the territory of this emirate. Besides, there are also dairy farms and dairy plants. The tastiest dates in the world are grown in "UAQ".
There is also a free trade zone (FTZ) in the emirate, "UAQ Free Trade Zone" which is mostly oriented for trade and consulting services. Companies established in the territory of the free zone, do not pay taxes or duties. Here you may register a company with 100% foreign capital.
FTZ (free trade zone, free zone) – a limited territory within the UAE with a special legal status. Companies may be established in the territory of each free trade zone. Each FTZ UAE applies its rules governing the operation of companies.
Opening a company in the UAE in a free zone – price of registration of a company in the Arab Emirates.
Benefits of opening a company in the UAE in FTZ "UAQ FTZ"
The administration of the free zone Umm Al Quwain provides maximum favorable conditions for development of business. A license can be obtained for the following types of activities:
Commercial license (trade license). Commercial license can be of two types:
Commercial license for trading a certain type of goods. This license allows export, import, distribution and storage of products listed in the business license. A license can be either issued for 10 similar types of products or for 3 different types.
General trading license. This license allows trading a wide range of goods.
License for consulting services.
Manufacturing license. Manufacturing different products.
License for freelance activity.
Service license. This license is for provision of services within FTZ territory.
Multiple licenses, which price depends on the type of activity, can be obtained for one company at once.
Foreign investors are attracted by the free zone "UAQ FTZ" due to very advantageous conditions for operation, namely:
owning a company without involvement of a local capital;
confidentiality of information on company business and its owners;
absence of currency control;
no taxes on income of natural persons, no tax on corporate income, no duties on export or import;
free withdrawal of capital;
low cost (if compared to other emirates of the UAE) of living and making business;
possibility of obtaining a resident visa.
Visa of the Arab Emirates for an investor!
How to obtain an investor resident visa UAE through registration of company in FTZ "UAQ FTZ"?
To obtain an investor's resident visa, you should:
Open a company within FTZ.
Open a company outside FTZ UAE.
Investor visa UAE is issued for 3 years with an option for prolongation for next three years any number of times. It is necessary to arrive in the UAE at least one in every 180 days. Annual fees should be paid for prolongation of an opened company through which UAE resident visa was executed.
Establishing a company for obtaining one UAE resident visa for an investor
To obtain just one visa of the Arab Emirates, you may establish a company in the emirate Umm Al Quwain in the free zone "UAQ FTZ" ("Umm Al Quwain"). An owner of this investor visa may also execute visas for his family members.
Fee FTZ for opening such company, granting the right to obtain 1 visa UAE, is 3,700 dollars (13,579 dirham).
Renewal of a company requires an annual fee of 3,150 dollars (11,561 dirham).
After opening a company, you need to connect to the "e-channel" – this is the mandatory requirement of the immigration service of the UAE. The price of such connection is 660 dollars (2,423 dirham).
After that, you need to pass a medical examination at price 235 dollars (863 dirham).
Then, you need to obtain the "Emirates ID" at price 101 dollars (371 dirham).
Payment for visa of the Arab Emirates – 685 dollars (2,514 dirham).
Price of prompt sticking of UAE visa 55 dollars (202 dirham).
Price of our services on registration of a company and execution of a resident visa UAE for an investor is 2,000 dollars (7,340 dirham).
If you also need to open a personal bank account in the UAE, then the price of our assistance in registration of a company, execution of an investor visa UAE and opening a personal account in the bank of UAE will be 2,200 dollars (8,074 dirham).
Price of our services if opening a corporate account in the UAE bank is needed – from 600 dollars (2,202 dirham).
In total, together with the price of our services and registration of a company, the price of obtaining one investor visa 7,435 dollars (27,287 dirham).
If you have any questions regarding this issue or want to open a company in this wealthy state, or need help in execution of a visa, please contact us for advice at: [email protected]; we will instantly provide a free consultation.
When planning to immigrate in the emirate Umm Al Quwain, UAE you should know about the applicable prohibitions
The laws in the Arab Emirates are very strict and are based on Shariah (certain set of rules defined in the Quran), and the administration of the emirates require following these rules. In Umm Al Quwain, just as in other emirates, it is prohibited to:
Take alcohol. Each foreign citizen may purchase alcohol only upon obtaining a special license. Taking alcohol in public places may result in a penalty of 600 dirham (164 dollars).
Drive a car at any content of alcohol in blood. Breaching the law results in a penalty starting from 20 thousand dirham (5,450 dollars) or criminal prosecution.
Wear (for women) clothes unveiling knees and shoulders, or too tight on a body, or clothes with too open cleavage. Moreover, lingerie should not be visible from under the clothes. These norms are applied as recommendations, not in the form of laws, therefore penalties are not provided for breaching them. If you do not follow the dress code, you may be prohibited to enter some places, shops, etc.
Openly demonstrate relationship between a wife and a husband. Non-marital relationships are especially negatively treated in Umm Al Quwain, as in other emirates. Public hugs and kisses will result in one month of jail conviction (if not worse). Up to 2 years of jail conviction may be sentenced people who start sexual relationship before marriage. People of non-traditional sexual orientation may be sentenced up to 15 years of jail conviction (period varies between emirates).
Take narcotic substances. A drug prescribed for you in other country can be considered narcotic in the UAE. During import of a drug in Umm Al Quwain or other emirate of the UAE, you should bring with you a prescription issued by a doctor in your country, although it does not permit you carrying forbidden preparations it may help to protect you from conviction. Sale or taking of drugs are legally prosecuted. A person suspected of taking drugs may be asked by police to undergo a blood test in a mandatory order. The most common sentence in such cases is four years of jail.
During the sacred month of Ramadan, to drink or eat in the street, as well as to chew a gum and smoke during daytime in public places. For breaching this, you may be given a warning or even arrested.
Import pornographic materials (photos, video, and images).
Smoke electronic cigarettes.
Act noisy or dance in public places.
Any showing of sympathy to the state of Qatar.
Swear or aggressively articulate in public places.
Photograph Muslim women, buildings of industrial or military designation, buildings of state authorities, or police cars. Breach of this may also lead to jail conviction; therefore, making photos in the Arab Emirates should be done very cautiously.
Breach the rules of etiquette.
Rules of etiquette you should know when immigrating to the UAE
If you plan to communicate with Arab people after moving to Umm Al Quwain, you should know the basic rules of etiquette in the emirates. Here are some of them:
It is considered improper to point with fingers; all the articulations should be made only with a hand.
Giving and accepting gifts, giving and taking visit cards or documents should be made only with your right hand.
Food and drinks should be taken with your right hand.
If you are invited to the Majlis (part of the house designed for guests), you should take your shoes off.
It is improper to show bare feet, sit with your legs crossed or point at someone's leg.
If a person enters the premises (especially if this is a person of high rank, a woman or an elderly person), you should stand up.
Before entering the country, we recommend to study the rules of etiquette more precisely.
The main sights you may visit after immigration to the emirate Umm Al Quwain, UAE
Fort of Umm Al Quwain. Former residence of the emir. Currently – a museum where you may see a collection of weaponry of different epochs and archeological findings from Al Dour. A spectacular view of the sea is available from the fort, which is located near the entrance to the "old town".
Dreamland Aqua Park. The biggest water park in the Arab Emirate by its area; here you may find thirty water glides and attractions. The water park is operating all-year round and may accommodate 10 thousand people.
Excavations of Al Dour. An ancient center of civilization is located on the coast of the Persian Gulf and is considered the biggest in the UAE. In earlier times, a trade and fishing port was located here. Visitor may see an ancient fortress, hundreds of tombs in perfect condition, square temple built for praising the god Shamash and many other.
Old harbor. Here you may see manufacturing of Dhow boats and houses from coral rock.
Islands of Umm Al Quwain. The biggest island is Al Sinniyah, which is a piece of virgin land. Migrating birds stay on the island Al Sinniyah: terns, seagulls, and flamingoes. Besides, on the island is living the colony of Socotra cormorants, which is the third in the world by population, as well as "Arabian gazelles".
Aquarium. This is a kind of scientific center located in the "New Harbor". Here you may find inhabitants of the Persian Gulf: corals, sea snakes, and stingrays.
Camel races. You may participate in races two times a week – in the morning of Thursday and Friday.
Wadi Al Neel. In this restaurant you may try everything presented on the coast of the emirate "UAQ".
Abu Shakra restaurant. Fish restaurant where you may try the best traditional Arabian dishes.
Happyland. Children center with video games, bouncy castles and other entertainment for kids.
Our company has been for a long time dealing with issues of immigration, opening bank accounts and companies in the United Arab Emirates. You may send us a request at [email protected] , and our specialists will provide a free consultation. Not only answers to your questions will be given, but we will also develop the optimum algorithm for further cooperative actions to obtain the most time- and money-saving scenario.
Tags
#Registration of company in the UAE
You are welcome to review other interesting articles on uaewealth.info: