Opening a company in the emirate Ajman, UAE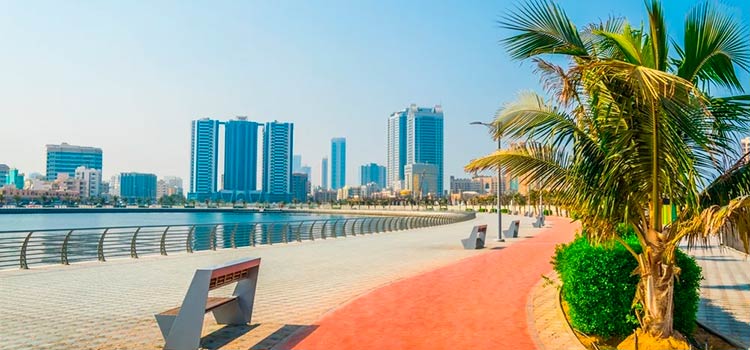 This article tells about the emirate UAE with the smallest area, Ajman, as well as about the main peculiarities of establishment of a company in the Arab Emirates in FTZ "Ajman Free Zone".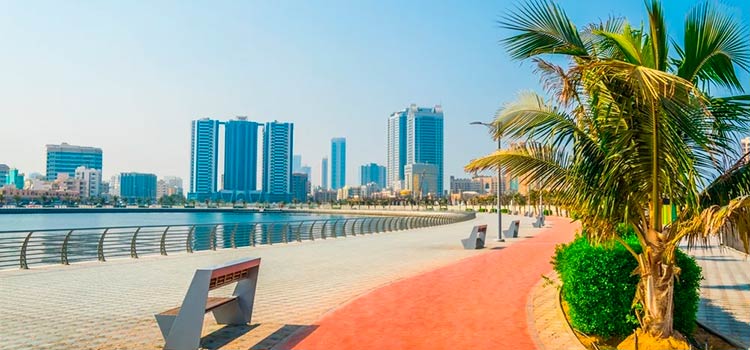 Location of the emirate Ajman
The emirate includes the central territory located on the shore of the Persian Gulf and two exclaves (non-sovereign regions separated from the main territory and surrounded by other states) Manama and Masfout.
Nearly all of the central part is taken by the city Al-Ajman and suburban areas, where manufacturing premises and warehouses are located. Al-Ajman is the part of the urban conglomerate Dubai-Sharjah-Ajman.
Manama is a small town located 60 kilometers far from the central territory of Ajman. In the territory of just 10 square meters, the authorities of the emirate managed to arrange an international airport (there is no airport in the central part of Ajman).There is also a museum in Manama.
Masfout is a town bigger than Manama (approximately 50 square kilometers), located 130 kilometers far from the central territory of Ajman and famous for its mineral springs.
Both Manama and Masfout are considered agricultural regions, which farmers grow the main fruit of the Arabian culture, dates.
The main peculiarities of the emirate Ajman
Ajman is the smallest emirate of the UAE — its area is only 259 square kilometers.
Approximately 540 thousand people live in the territory of the emirate (survey from 2018). Of them Arabs are 12,8% of the total number of residents; others are foreign citizens.
The emirate includes the central territory located on the shore of the Persian Gulf and two exclaves Masfout and Manama.
Al-Ajman is the part of the urban conglomerate Dubai-Sharjah-Ajman.
15% of companies registered in the UAE are located here.
The port of the emirate Ajman services more than 1000 ships per year.
It is better to move around Ajman by taxi. Taxis in Ajman are governed by the "Public Transport Corporation Ajman". A taxi can be ordered using the application "Careem" or by calling the number 600 599997.
Only four bus routes are operating in Ajman. Transfer prices are from three to seven dirham (0.8-1.9 USD). Transfer is paid at a driver. It is prohibited to eat, drink, chew a gum, and smoke inside a bus. Violation of this rules leads to a penalty.
There is no prohibition on sale of alcohol in Ajman. Alcohol here is sold by the shop "Hole In The Wall", located near the hotel "Beach Hotel". Despite sale of alcohol is allowed in Ajman, taking it in public places or being in drunken state in a public place is prohibited; a violator will be charged a penalty just as in other emirates of the UAE.
Economy of the emirate Ajman
The main distinct feature of the emirate Ajman is absence of oil. Previously, trade and extraction of pearl from the waters of the Persian Gulf were sources of income in this region. Meanwhile, this activity had long stopped bringing any serious profit and authorities of the emirate began searching alternative ways to develop the economy.
Construction and sale of real estate is one of such sources for developing the economy of Ajman. Currently, investments in construction exceed 20 billion dollars.
Besides, Ajman is the local center of shipbuilding that makes 15% contribution to GDP. Another 37% of GDP are contributed by the production sector, most part of which is working for the shipbuilding industry.
In 1988, the free trade zone "Ajman Free Zone" («AFZ») was established in the territory of the emirate, owing to which several hundreds of shipbuilding transport and other companies were registered in Ajman. Here you will find docks and the main office of the major shipbuilding company "Arab Heavy Industries".
Sights and shopping malls of Ajman
Ajman practically has no sights, but here is a short list of places you may visit in this emirate:
Fortress and museum of Ajman. The fortress was built in the XVIII century. Earlier it was the residence of the Emir; today – an operating museum where you may find archeological items, documents, and weaponry. The museum also presents compositions from wax figures showing the traditional household of Arabs.
Course for camel races "Al Tallah Camel Racecourse" located near the airport of Sharjah.
Fish market representing all the variety and wealth of sea fauna of the Persian Gulf.
Square Tower and Red Fortress – structures of the early XX century.
Shopping malls: "City Center" – the biggest in Ajman with food courts, shops and restaurants; "China Mall" — resembles a covered market with hundreds of small shops and "Safeer Mall".
Benefits and features of opening a company in the UAE in FTZ "AFZ"
Free trade zone (FTZ) or free economic zone, or simply free zone is a certain region in the emirates that is a separate jurisdiction. Within each free zone a company can be established. Each free zone in the UAE has its own rules governing the operation of companies.
The Arab Emirates have already established more than 40 different trade zones with various specializations.
The free zone "Ajman Free Zone" deserves a special attention of businessmen. According to experts' opinion, this is one of the best and safest FTZ of the Arab Emirates today.
The main benefits of FTZ "AFZ":
proximity to Sharjah and Dubai;
infrastructure convenient for work;
just one shareholder and one director is enough to establish a company;
public register of directors and shareholders Is not maintained;
no taxes on income;
low cost of company opening (if compared to Abu Dhabi or Dubai);
possibility of owning a full set of shares;
signed agreements on avoidance of double taxation with 45 countries.
Most companies established in the free zone "AFZ" belong to these sectors:
plastic and chemical production;
leather items, textiles, ready clothes;
tobacco industry, drinks, food industry;
equipment, machinery, metal items;
non-metal mineral products;
paper items, paper, publishing industry, printing industry;
wood-processing, timber industry, furniture manufacturing;
metal-processing industry (main sectors);
other processing sectors.
FTZ "Ajman Free Zone" offers the following licenses:
license for provision of services;
license for manufacturing;
license for e-commerce;
license for trading activity;
national manufacturing license.
If you want to register a company in FTZ "AFZ", we are ready to help; feel free to contact us right now [email protected] and get a detailed consulting!
Obtaining an investor visa of the United Arab Emirates
AN investor visa of the UAE is issued when opening a company in the emirates. UAE resident visa can be obtained after establishing a company in the emirates. UAE investor visa for an investor is issued for 3 years, with an option of prolongation for next three years any number of times. With the purpose of UAE visa obtaining, a company can be opened in a free zone or outside.
An offshore company registered in the UAE does not allow its owners obtaining a resident UAE visa.
Investor visa UAE is issued for 3 years with an option for prolongation for next three years any number of times. It is necessary to arrive in the UAE at least one in every 180 days. Annual fees should be paid for prolongation of an opened company through which UAE resident visa was executed.
To obtain a resident visa UAE, the most reasonable way is to choose a company of a free trade zone. Each free zone defines its regulations and prices for establishing of companies. By choosing the most appropriate FTZ by price and terms, you may register a company there and issue a resident visa UAE afterwards.
Visa UAE for an investor!
The procedure for collection and submission of necessary documents for obtaining UAE visa is quite complicated. Please contact us right now at [email protected] to be consulted and obtain full assistance in preparation of the required documents.
Please keep in mind that selection of a company is an individual issue that depends on multiple factors. Our company has a wide experience in company establishment in the UAE – please contact us at [email protected] , so that our specialists could provide you assistance!